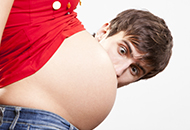 Recorded Conversation took place on
Wednesday 12th September 2018.
How are we going to afford it? That is the ever-recurring question which seems to spring up when hopeful parents start discussing the when and how of starting a family. The answer will likely dictate which parent will take all or most of the parental leave, when or if both will return to work, and on what basis.
Like most Kiwis, the conversation ends with "we'll make it work". Which is true. But, hey, nothing wrong with a bit of forward planning right?
Jone Puamau, author of this article, and his wife Tess, will be joining us to talk through their journey into parenthood and all that goes with it.
Click here to read the article 'Up The Duff'.
Click here to watch the video on YouTube.